What is Pest Management?
They are called "pests" for a reason. Depending on the particular location, pests find their way into homes and destroy finely landscaped properties.
Pests such as vermin and insects make their own rules and are not adverse to being possessive and territorial.
This is why a regular program of pest management is so important. Professional pest management is the only way to overrule pests who take liberties with your home, personal possessions and property.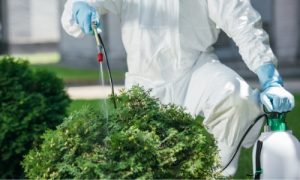 Why is Pest Management Important?
Most residents are repulsed by the sight of crawling insects and vermin "droppings." In the Moab, Utah region one of the most prevalent pests is the American cockroach. However, termites and bedbugs are also indigenous.
Outdoors, pests are most destructive to lawns and gardens. Utah's outdoor pests range from weevils, ticks, the American Salmonfly to plants eating aphids, moths, spiders and beetles.
In terms of vermin, mice and bats may be found indoors in Utah while moles and other outdoor scavengers are also a problem.
All of these show why proper pest management is important for good health and to avoid property destruction.
Why Utah Residents Should Invest in Pest Management
The best reasons to invest in professional pest management is to reduce the potential for illness from exposure to insects and vermin.
Investments in Moab Pest Management is a preventative against loss. In Utah, the top Moab Pest Management is TM Premier Services.
TM Premier Services offers a full compliment of services that include:
. Moab Landscaping
. Moab Lawn Care
. Moab Lawn Service
. Moab Yard Care
Why Residents Trust and Rely on TM Premier Services
Unlike other Moab Pest Management competitors, residents in this region rely and trust TM Premier Services because of a long standing reputation for land management experience, effectiveness and excellent customer service.
What Pest Management Does for Residents
One thing is certain when it comes to Moab Landscaping, Moab Lawn Care, Moab Lawn Service and Moab Yard care, there is a direct link to these necessities and pest management.
When residents invest in pest management on a community basis, there is a noticeable reduction in pests. All it takes is for one resident to neglect an onslaught of pests for pests to forage to other areas of Moab. For more information, contact us today.
Please don't hesitate to contact us. We are happy to answer any of your questions! Our business hours are 7am-8pm Monday through Friday and 9am-5pm Saturday.