Moab residents know how quickly weeds take over carefully tended lawns and gardens. Without professional help, the land stands little chance to thrive. Moab lawn care provides Moab weed management services to optimize any home's curb appeal.
If You Want A Healthy Lawn and Land, Moab Weed Management Provides Essential Help
Selecting the best turfgrass for the local environment is key to minimizing weeds and pests. Contact Moab lawn service for expert advice on the best turfgrass for the perfect lawn. Appealing landscapes matter for neighborhood pride and for the best average home values. Moab landscaping knows the importance of using the right trees and plants to display any home beautifully.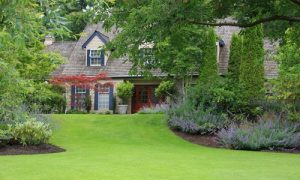 Is Weed Management Important for A Healthy, Appealing Lawn and Land?
Thick grass free from weeds helps prevent soil erosion. Healthy, weed-free land contains healthy grass to filter rainwater contaminants. Moab yard care helps families live healthier lives when thick grass converts carbon dioxide to oxygen that scrubs the air, cleaning and absorbing airborne pollutants before they reach a family member's lungs. Contact Moab lawn care for healthy lawn assistance.
Moab Residents Benefit Using Moab Lawn Service
When caring for an established lawn, Moab yard care meets the current needs of neighborhood homes. They offer essential services to revive troubled, weed-ridden patchy grass and dirt. They tailor services to specific problems and take logical steps to restore the natural beauty in even the worst yards.
Using mowers set at special heights Moab Landscaping specialists encourage thick grass that chokes weeds. They manage irrigation efficiently and aerate lawns to help them breathe. Their experts fertilize your land in a prudent and effective manner.
Great Neighborhoods Spring Forth Using Moab Landscaping
Homeowners dream of their home having an appealing lawn with natural landscaping and a healthy garden. Moab's soil requires special care to produce a healthy outdoor living area that benefits all residents. Learn more about our lawn care and maintenance.

Please don't hesitate to contact us. We are happy to answer any of your questions! Our business hours are 7am-8pm Monday through Friday and 9am-5pm Saturday.